Leakey Foundation grantees Israel Hershkovitz and Ofer Marder led an international team of archaeologists who discovered a 55,000 year old cranium in Manot Cave in Israel. Their discovery was described last week in the journal Nature.
Photo courtesy of : Clara Amit, Israel Antiquities Authority
A key event in human evolution was the expansion of modern humans of African origin across Eurasia, replacing all other forms of hominin (humans and their predecessors) around 40,000-60,000 years ago. However, due to the scarcity of human fossils from this period, the path these ancestors took as they expanded out of Africa has largely remained a mystery.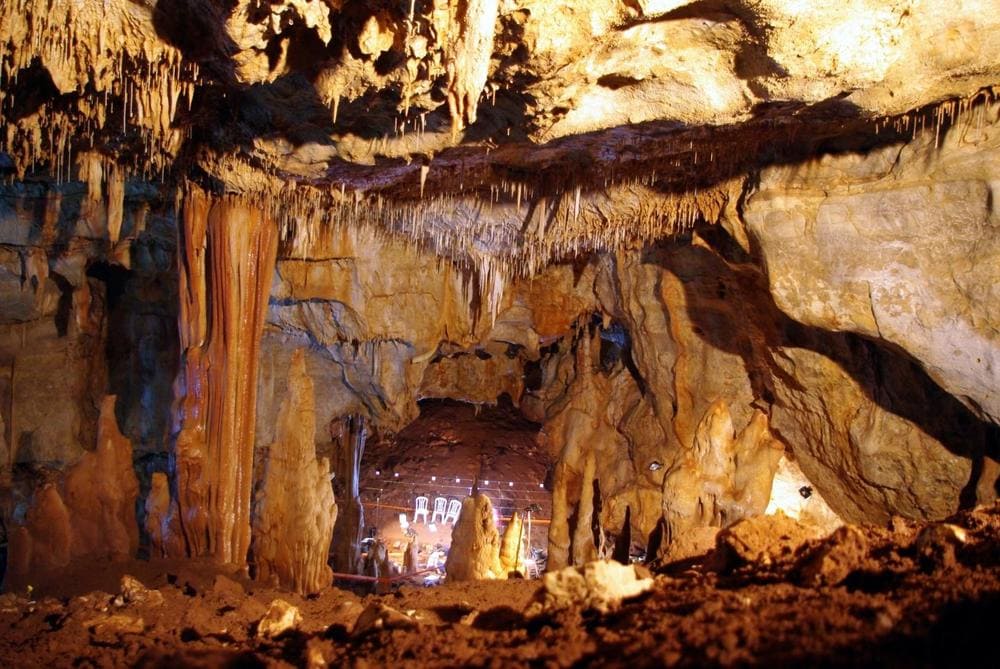 Interior of Manot Cave. Photo courtesy of Amos Frumkin / Hebrew University Cave Research Center
The Manot Cave finding provides the first fossil evidence from the critical period when genetic and archaeological models predict that African modern humans successfully migrated out of Africa and populated Eurasia. It is also the first fossil evidence that there were populations of modern humans living near populations of Neanderthals in the Levant during the late Middle Paleolithic. This leads some to speculate that the Manot Cave people could be the population that initially bred with Neanderthals, giving all modern non-African people a little bit of Neanderthal DNA.
The Leakey Foundation recently awarded Ofer Marder of Ben-Gurion University a research grant to fund further excavation of Manot Cave. We are thrilled to be funding the exploration of this important site. We look forward to sharing news of more discoveries.
The research appears in the journal Nature under the title "Levantine cranium from Manot Cave (Israel) foreshadows the first European modern humans" (DOI 10.1038/nature14134).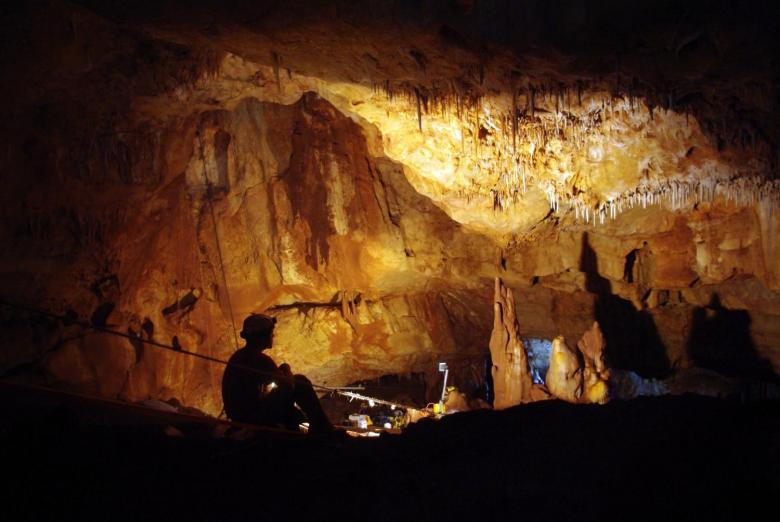 Inside the Manot Cave in Israel's Galilee, where a 55,000-year-old skull sheds new light on human migration patterns. Photo courtesy of: Amos Frumkin / Hebrew University Cave Research Center
You can learn more about the discoveries at Manot Cave in the following articles:
"Skull Fossil Offers New Clues on Human Journey From Africa", New York Times.
"Neanderthals gain human neighbor", Nature.
---
---