The Leakey Foundation's new series Lunch Break Science has been a great success with over 7,000 views of episodes since its launch on June 25. The series was originally slated to run through August 27th, but don't pack up your lunches quite yet! Lunch Break Science has been renewed for another 26 episodes starting Thursday, October 1st with new episodes streaming live the first and third Thursdays of every month at 11 AM Pacific / 12 PM Mountain / 1 PM Central / 2 pm Eastern.
Thank you for taking a break from your day and feeding your brain with The Leakey Foundation!
Lunch Break Science owes much of its success to an amazing audience, both those viewing live and on-demand. We work hard to create content that we think you will like and are so incredibly appreciative that you have come back week after week to learn about the fascinating research that Leakey Foundation grantees conduct.
While planning what comes next for Lunch Break Science, we listened to your feedback that you wanted new episodes released on a regular basis all year long. We will continue to incorporate your interests and thoughts into our programming, so keep them coming!
Let us know your thoughts about Lunch Break Science through this survey or email us at [email protected].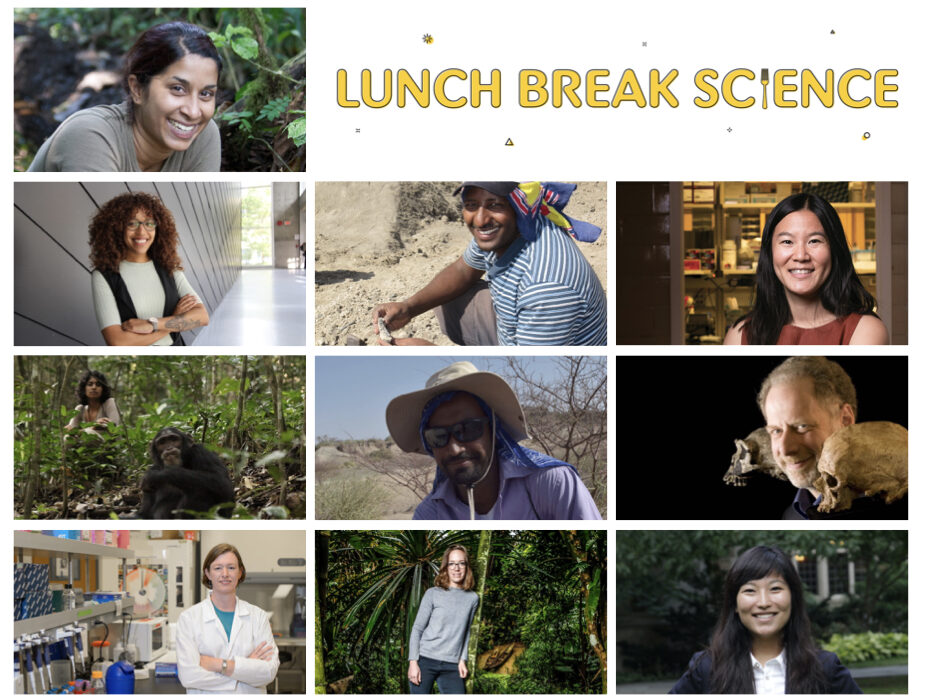 An incredible line-up of guests
The real rock stars of Lunch Break Science are the incredible scientists featured in our program. Zarin Machanda, Lauren Schroeder, Chalachew Seyoum, Jenny Tung, Hailay Reda, Rachna Reddy, Dan Lieberman, Anne Stone, Caroline Schuppli, and Ainash Childebayeva went above and beyond to bring you the latest in human evolution research from the field and the lab. We cannot thank them enough for all the time they gave us on the screen and behind the scenes!
Stay tuned for updates on our new episodes featuring the latest in human evolution research!
---
Miss an episode of Lunch Break Science? All episodes of Lunch Break Science are available on-demand at Leakey Foundation Live.
---
Sign up below to receive live stream episode reminders.
---
---