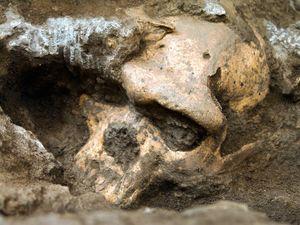 Skull 5, in-situ. Dmanisi, Republic of Georgia.
Dr. David Lordkipanidze's newest evidence to come from Dmanisi has set the stage for a lively debate between thelumpers and splitters. For the past two decades, Lordkipanidze­—a five-time Leakey Foundation grantee (1998-2003)­­—and his colleagues have excavated at Dmanisi, a long-term study site in the Caucasus in the Republic of Georgia, approximately 50 miles southwest of Tbilisi. This early Paleolithic site has proven to hold rich deposits of fossils and tools, producing very complete skulls from a pivotal time in human evolution, about 1.8 million years ago.
The Leakey Foundation has funded 10 research grants at Dmanisi, including work by Reid Ferring, James Macaluso, Philip Rightmire, and Martha Tappen. For some of these studies, the Foundation is one of only two American funders. YOU can help us continue to fund this type of important work; keeping science in the forefront and exploration into our origins a priority.
The Leakey Foundation strongly believes in the funding of long-term research. With dedication and perseverance come great discoveries, like Skull 5. Please help support long-term research and donate to The Leakey Foundation today. 
---
---