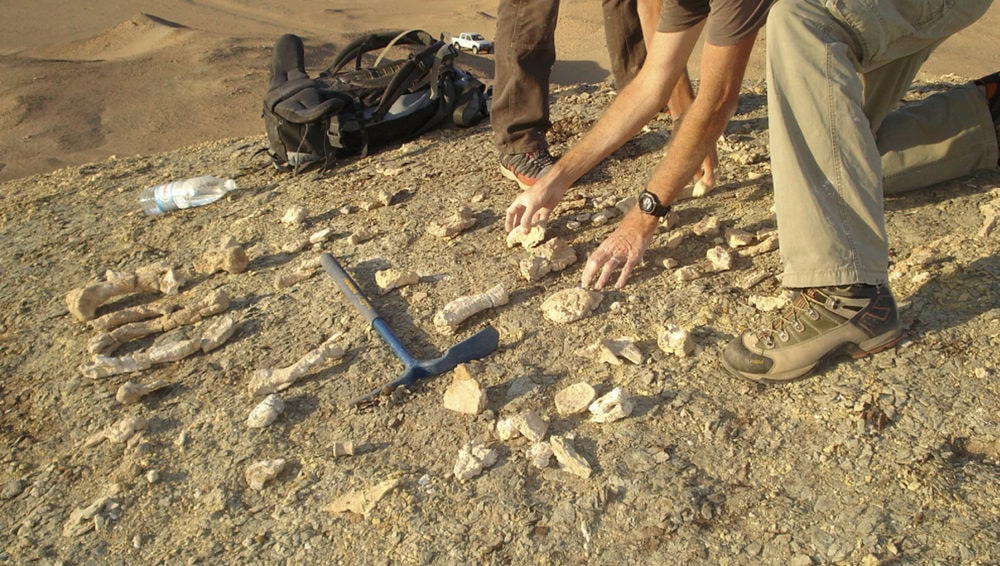 Part of the collection of crocodile fossils. Photo credit: Erik Seiffert.
Erik Seiffert is an associate professor in the Department of Anatomical Sciences at Stony Brook University. He was awarded a Leakey Foundation research grant in 2006 for his project entitled "Exploration for Early Anthropoids and other Primates in Western Egypt."
Prompted by studies suggesting that anthropoid colonization of Afro-Arabia occurred later than previously thought, Erik Seiffert and a team of paleontologists spent a total of four weeks exploring terrestrial and near-shore sediments of Late Cretaceous age in the Dakhla and Kharga Oases of Western Egypt. Their goal was to recover vertebrate fossils.
MUVP members showing a local group of high school students the jacketed remains of Late Cretaceous fossils from the Western Desert of Egypt.
The team discovered many important vertebrate fossils in the area and expanded the vertebrate fauna of these deposits to include dinosaurs and crocodiles, to name a few. However, no mammals were found during the initial trip or several return visits.
While the outcomes of this project were "disappointing" from a paleoanthropology perspective, important strides were made in numerous other areas, including the creation and expansion of the Mansoura University Vertebrate Paleontology Division (MUVP).
---
---