Samantha Porter in the lithics lab at the University of Minnesota
The next grantee from our fall 2014 granting cycle is Samantha Porter. She is a PhD candidate from the University of Minnesota, Twin Cities, and her project is entitled "Investigating cultural transmission across the Middle to Upper Paleolithic transition in Western Europe."
Around 40,000 years ago, anatomically modern humans began migrating out of Africa into Western Europe.  Europe was not empty prior to this migration, but was already inhabited by our close evolutionary cousins, the Neanderthals.
Samantha Porter demonstrating how to make 3D models using photogrammetry
My research tests for evidence of cultural exchange between Neanderthals and anatomically modern humans during this tumultuous time in prehistory. It is based on the principle that social proximity between groups has an effect on the way groups apply knowledge they've learned from one another. My research hypothesizes that if groups are interacting closely, individuals will be able to learn all stages of a technological production process from start to finish. For stone tools, this encompasses both the creation of flake 'blanks' and the reshaping of these blanks to produce formal tools. Alternatively, if two groups are interacting with each other in a more socially distant fashion, perhaps only finding material traces of each other left behind on the pathways of the landscape, a group acquiring a new technology from another is more likely to use their own blank production methods and then attempt to replicate only the form of the final product or tool of the other group.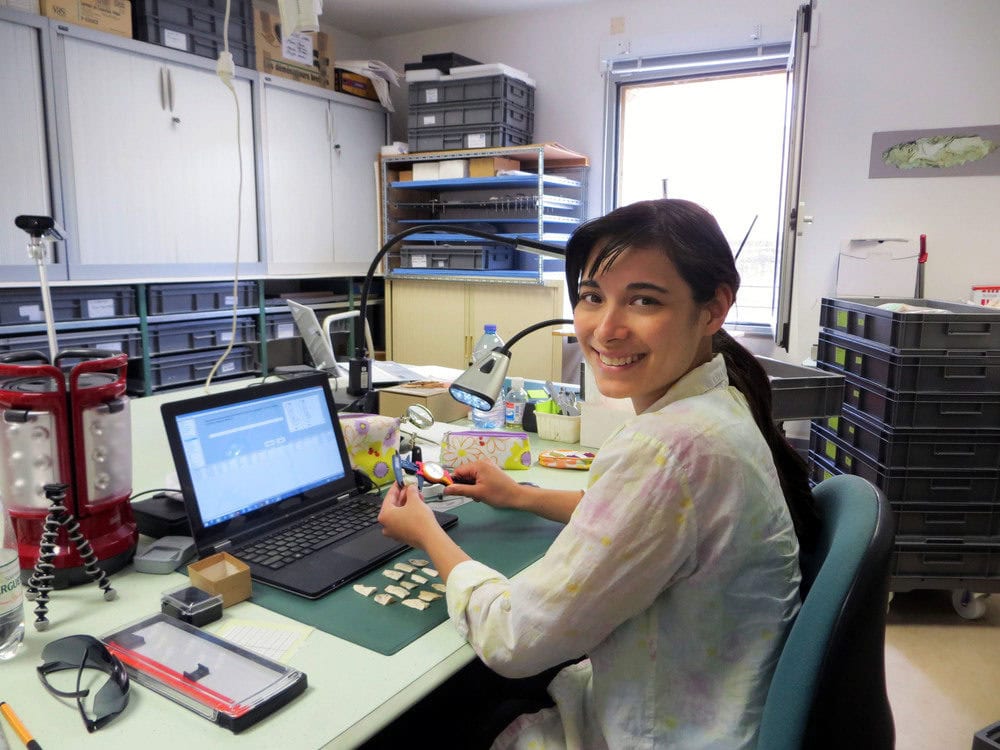 Samantha Porter measuring lithic artifacts in the Musée national de préhistoire in Les-Eyzies-de-Tayac, France
In short, by looking at similarities and differences between assemblages of artifacts associated with Neanderthal and anatomically modern human groups at different steps of the stone tool making process, I not only seek to find evidence of the presence or absence of cultural exchanges between modern human and Neanderthal groups but also gain a better understanding of how closely these groups may have interacted with one another.
---
---