Blog
02.09.15
Grantee Spotlight
The next fall 2014 grantee we would like to introduce to you is Maura Tyrrell. She is a PhD candidate from the University at Buffalo, State University of New York, and her dissertation project is entitled "Effect of competition on male coalition patterns in crested macaques."
Maura Tyrrell and a crested macaque My dissertation focuses on the social relationships between…
more »
02.04.15
Grantee Spotlight
Naomi Cleghorn, University of Texas at Arlington, was awarded a Leakey Foundation research grant in the fall of 2014 for her project entitled "Investigating a rare Early Later Stone Age site at Knysna, South Africa."
Naomi Cleghorn at Pinnacle Point site 5/6, Mossel Bay, South Africa Despite widespread interest in the potential origins of modern human cognitive, social, and technological…
more »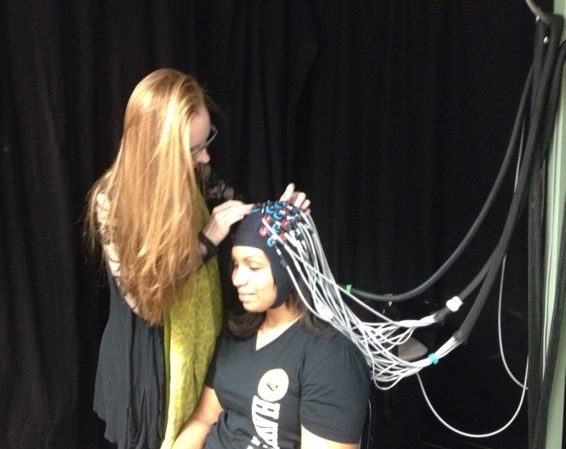 01.29.15
Grantee Spotlight
We are happy to introduce another one of our fall 2014 grantees, Shelby S. Putt, PhD candidate from the University of Iowa. Her dissertation project is entitled "Investigating the co-evolution of language and toolmaking:  An fNIRS study."
Shelby S. Putt Our language and cognition are arguably the features that most distinguish us from other species, and yet, we still know so little about…
more »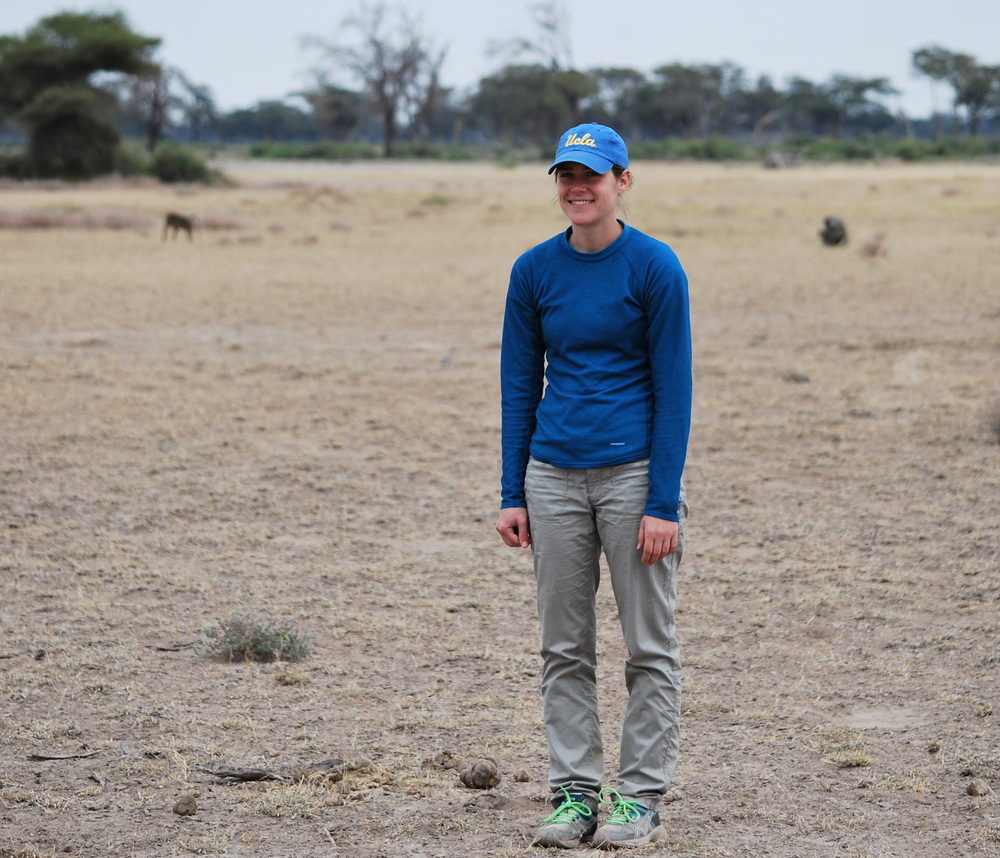 01.26.15
Grantee Spotlight
We are pleased to introduce you to another one of our newest grantees, Amanda Lea, PhD candidate from Duke University.  She was awarded a Leakey Foundation research grant in the Fall of 2014 for her project entitled "Effects of social conditions on DNA methylation and immune function."
Many primates, including humans, live in complex social environments in which both competitive and…
more »
01.20.15
Grantee Spotlight
Michael Granatosky, PhD candidate from Duke University, was awarded a Leakey Foundation research grant in our most recent granting cycle for his project entitled "Gait mechanics of inverted walking: Implications for evolution of suspensory behavior."
Michael Granatosky at the Duke Lemur Center Specialized arm-swinging locomotion has arisen independently numerous times during the…
more »
01.06.15
Grantee Spotlight
Over the next few months we will be introducing you to Leakey Foundation grantees from our Fall 2014 granting cycle. Our first featured grantee is Alia Gurtov, PhD candidate from the University of Wisconsin, Madison. Her project is entitled "Dental microwear analysis of Early Pleistocene hominin foraging seasonality." 
Alia Gurtov in Rising Star Cave For our Early Stone Age predecessors…
more »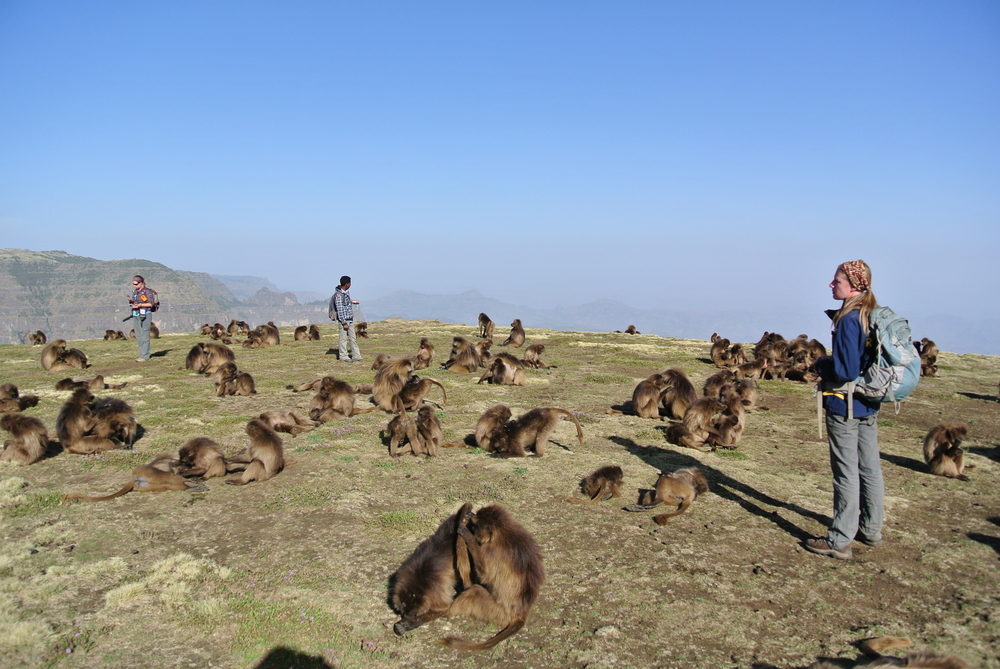 12.16.14
Grantee Spotlight
In the spring of 2013 Elizabeth Tinsley Johnson, PhD candidate from the University of Michigan, was awarded a Leakey Foundation research grant for her project entitled "A test of the vocal grooming hypothesis in the gelada."
Geladas (close relatives of baboons) are exceptionally unique primates that are only found in the highlands of Ethiopia. What makes them unique? First, they…
more »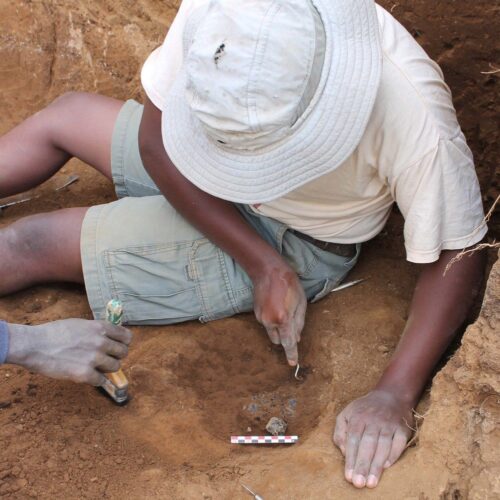 11.17.14
Grantee Spotlight
In spring of 2013
Philip A. Slater
, PhD candidate at the University of Illinois, was awarded a Leakey Foundation research grant for his project entitled "Planning and technological organization in the Kenyan MSA and LSA."  The following is a short update on his progress.
Small and intentionally dug hole that contained about 550 artifacts. 
The people at the site (~94,000 years ago) appeared
…
more »
11.10.14
Grantee Spotlight
In the spring of 2014 The Leakey Foundation awarded Alexandra Uhl, PhD candidate from the University of Tübingen in Germany, a research grant for her project entitled "Sex determination in geographically and ontogenetically diverse samples."
My research looks at sexual dimorphism (differences between males and females) in the bony labyrinth, which is the rigid outer wall of the inner…
more »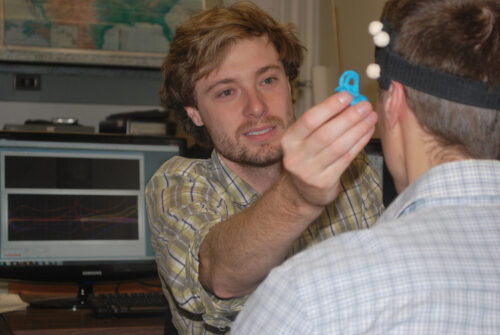 11.03.14
Grantee Spotlight
Nathan Thompson explaining to a kinematic subject how head motion relates to the semicircular canal organs in the inner ear.
Nathan Thompson
, PhD candidate from Stony Brook University, was awarded a Leakey Foundation research grant in spring of 2014 for his project entitled "Kinematics and evolution of upper body stability in hominins."
Humans are unique among our primate relatives
…
more »
Found 103 Results